[Taipei, Taiwan] ESL Pro League is the world's biggest, longest running professional CS:GO league. Top teams from Europe, North America and Asia compete in weekly league matches for an annual prize pool of US$1,000,000, making ESL Pro League the most influential CS:GO league in 2018. The grand final will be held at Dallas Verizon Theater during May 18-20. ESL One's 2018 official gaming partner, MSI is now proudly designated as the official ESL Pro League 2018 gaming and PC partner as both parties further their cooperation. During ESL Pro League 2018, MSI GE63 Raider RGB laptop PC will be the official broadcast laptop as well as MSI Aegis 3 Plus the official tournament desktop power for all players.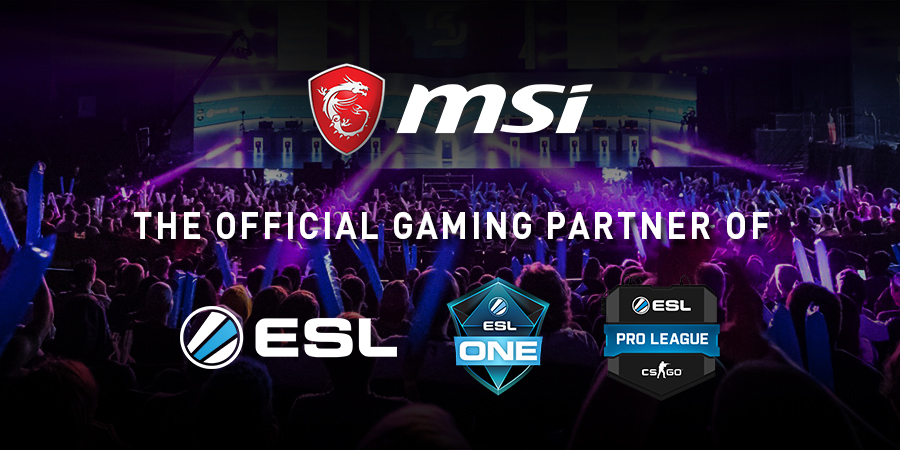 "MSI is the only True Gaming brand. Featuring stellar performance and stability, the MSI GAMING Series gear gamers up for fierce competition and are widely acclaimed. Most top professional eSports teams have their daily training with MSI GAMING laptops and desktops and that solid training brings out their best during tournaments. Wish all eSports teams get good grades at ESL Pro League 2018 Finals at Dallas," says Sam Chern, MSI Global Marketing Assistant Vice President.
The Official Broadcast Laptop for ESL Pro League 2018: MSI GE63 Raider RGB
The new GE63 Raider RGB laptop PC has been given a new identity and weaponry inspired by next generation sports cars. With 12 zones of the RGB Mystic Lights design on top cover on both sides, its backlit also accompanies with 24-million different shinning modes programmed by SteelSeries Engine 3 or independently controlled by Dragon Center. Gamers or broadcasters could show more in-game real-time interactions related to the lights from top cover and keyboard backlit that makes the new generation of GE63 more fancy and professional to show off their different gaming skills with these lights interactions.
ESL Pro League 2018 Official Desktop Power for All Players: MSI Aegis 3 Plus Gaming Desktop
MSI's beastly Gaming Desktops, Aegis 3 Plus, is the true game changer packed with Power, Stunning Innovations and Breathtaking Case Design. With the unique Mystic Light technology, gamers can select any of the colors from the palette to match their style and this Gaming monster's. In addition, the MSI exclusive Silent Storm Cooling System keeps the Aegis 3 Plus as cool and quiet as possible and allows gamers to focus on their victory, knowing that Aegis 3 Plus will take care of the rest of things. Furthermore, the incredibly easy to upgrade design will keep the gaming rig up to date with the latest hardware for gamers to be the winner in every battlefield. A Cheer arises with Aegis 3 Plus for Gamers. This is True Gaming. This is G.A.M.E. UNLIMITED.
MSI GAMING:
https://www.msi.com/
MSI Facebook:
https://www.facebook.com/MSIHQFANCLUB
MSI Twitter:
https://twitter.com/msitweets
MSI YouTube:
https://www.youtube.com/user/MSIGamingGlobal
MSI Instagram :
https://www.instagram.com/msigaming/