MSI™'s products have been well known among computer professionals and users around the world. For users who want to learn about MSI™'s greatest and latest solutions, MSI™ will launch the "Computex Taipei Summer 2003 Online Showroom" on June 2nd to showcase the company's latest products and innovations.
Other than existing products of Motherboard, Graphics Cards and Barebone System, MSI™ has successfully expanded facilities, services and diversified product capability to Server, Optical Storage Drive and other multimedia and computer peripheral products. This year, MSI™ is introducing a few new products, such as MEGA PC and PenNote. MSI™ is always leading in bring users the latest technology.
CoreCell™, a unique motherboard feature developed by MSI™, combines the features from the well-known PC Alert™ and Fuzzy Logic™ utility software and should be appeal to computer enthusiasts.

First introduced in the Cebit 2003 Hannover Computer Show, MSI™'s Mega PC is a system not only functions as a PC, but also doubles up as a Home Theatre System and a stand-alone Hi-Fi system. The coolest thing about this Mega PC is the ability to give you radio, CD, and MP3 playback without powering up the system. The Mega PC can also have TV functions, if one TV Tuner card is installed. You wouldn't want to buy a Hi-Fi without a remote controller, do you? MSI™ understands this and equipped the Mega PC with an IR receiver and remote controller for the best Hi-Fi experience.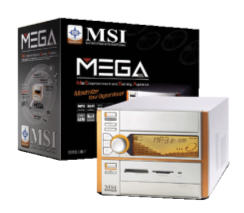 MSI™'s new PenNote 3100 riches your Windows® XP experience by incorporating the convenient and intuitive aspects of pen and paper into the tablet PC. With the built in 802.11b WLAN or Bluetooth feature, you can be productive in anywhere and stay connected. The MSI™ PenNote 3100 is lightweight and has long battery life (up to 4 hours) and it comes with a docking station, which is best for home or business users, who regularly go on-line, word processing, or making a presentation.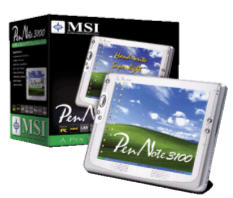 MSI™ first announced the exclusive CoreCell™ Chip when the company introduced its 875P Neo series motherboards, which supports the latest Intel® 800MHz FSB Pentium® 4 processors. The CoreCell™ Chip brings 4 major innovative features: Speedster, BuzzFree, PowerPro and LifePro. CoreCenter™ is a smart automatic detecting tool exclusively from MSI™, and it combines the features from the well-known PC Alert™ and Fuzzy Logic™ utility software. CoreCenter™ can automatically adjust the CPU speed and the Vcore ratio of your AGP graphics card to its best condition.
Besides, this useful software detects system temperature, the status of voltage, fan speed and all other key components onboard, reducing the risk of system damage.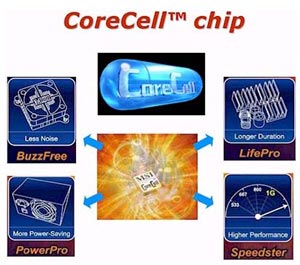 MSI™'s goal is to become one of the star performers in the high-tech industry and we are making steady progress and developments towards Optical Storage products.
The new drives feature MSI™'s ABS™ (Anti-Bumping System) technology, the most advanced design and engineering to reduce vibration and noise and to provide superior stability when the drive is operating at high speed. The technology also represents MSI™'s efforts to meet home and business consumer demands for super-quiet operation and faster reading and recording performance.

In the graphics cards arena, MSI™ is the worldwide No.1 NVIDIA® chipset based graphics card supplier and has been NVIDIA®'s best partner. In year 2002, NVIDIA® have appointed MSI™ four awards, including "Best Partner", "Best Marketing and Sales Support", "Best Technical Support", and "Best Product Portfolio", to show the strong partnership between the two companies in terms of product development and channel marketing. So, come check out the online showroom about MSI™'s latest graphics cards, which are based on NVIDIA®'s latest and the most advanced GeForce FX series chipsets.

With a world-class engineering team, MSI™ combines design savvy with extensive industry experience to deliver unique 802.11g wireless and HomePlug solutions. 802.11g, the latest Wi-Fi standard, is fast, compatible with its popular but slower 802.11b sibling. The future of 802.11g is bright given its advantages, and it is expected to become a popular component in LAN construction among developers.

MSI™'s products are well known for their superior quality. Our R&D Department is dedicated to product research, development and design, aiming to bring high quality products to our customers. In the online showroom, we are also exhibiting our latest Server products. The focus will be on great designs and enhanced feature sets at excellent prices.

Based from the above exhibit products, it clearly envisions and outlines the MSI™'s future development and direction. Besides cutting-edge technologies and solutions from MSI™, the online showroom will offer exciting games, contests and raffle draws that include great prizes. All in all, the MSI™ Computex Taipei Summer 2003 Online Showroom is a great deal to see and enjoy. Please mark your calendar and plan to visit the MSI™ Online Showroom starting from June 2nd. We look forward to seeing you there and are pleased to show you all our wonderful products.

Please visit the showroom at www.msi.com.tw.