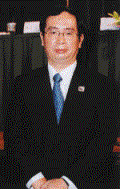 Micro-Star International (MSI™) has set raising its gross margin as its primary goal for 2003, which it hopes to achieve with its increasing concentration on more profitable system products, company chairman and president Joseph Hsu said at a May 28 shareholders meeting.
The Taiwanese board maker predicted that the proportion of revenues from its non-motherboard businesses will rise from 15% in 2002 to 30% this year, given its growing shipments in barebone systems and optical drives as well as the addition of new product lines, such as its "Mega PC" mini-barebone systems and dual-processor server products.
MSI™ expects that its expanding system product lines will help boost its profit performance, as these products usually enjoy greater margins than motherboards or graphics cards. For example, Hsu said that its gross margin on "Mega PCs" is estimated at 15-20% and margins on servers could reach as high as 30% this year. Comparatively, MSI™'s margin on motherboards reached only 12.5% in 2002. For graphics cards, the margin dropped to below 10% for own-brand products and less than 5% for OEM orders, Hsu noted.
To create a healthier operating structure, MSI™ thus is making margin improvement its first priority for 2003. Hsu estimated that with the new system products and production move to China, MSI™'s margin will enjoy significant growth by year-end. But he admitted that the company's margin in the second quarter is likely to come in lower than the first quarter due to the low-season effect.
For production, with its new Kunshan, Jiangsu Province (China) factory expected to enter full production in the third quarter, MSI™ estimates that its China production ratio will reach over 50% in 2003.
MSI™: 2003 shipment forecasts
(thousand units)

2002

2003

Y/Y

Motherboards

12,500

15,000

20%

Graphics cards

11,500

9,000

(21.7%)

Optical drives

1,000

1,500-2,000

50-100%

Barebones

800

>1,000*

>25%

Servers

-

-

>100%

Source: company, compiled by DigiTimes, May 2003. *Including mini-barebones.
Related stories:
(News Source From DigiTimes)