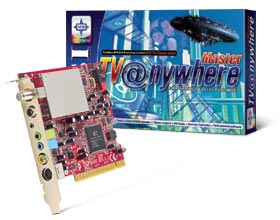 MSI™ announces the high-resolution TV@nywhere Master, which adopts superior full-functional audio/video decoding processor CONEXANT® to show life-like DVD virtual reality, and further adds the latest Silicon Tuner TV signal chip to provide all-purpose TV viewing enjoyment and TV program editing functions.
Hardware Features of the TV@nywhere Master TV-Tuner card:
Silicon Tuner & Conexant audio/video decoding processor delivers fantastic image quality.

Supports outstanding intermediate frequency (IF) output adjusting function.

Programmable while minimizing the bandwidth requirement.

Software auto-detect to switch between PAL-B/G/D/K/H/I.

Supports 10-bit analog-digital image conversion(At present, a vast majority of TV Tuners use 8-bit conversion).

Most advanced 2-D comb filter
(Unlike the use of the TV Tuner card which will be distorted <brightness notch+ color> comb wave filter).

Software Features of the TV@nywhere Master:
Instant encoding and sharing MPEG4 TV programs.

DVD video playing quality.

Supports standard video-conferencing specifications, including NTSC-M/N and PAL-B/G/D/K/H/I.
Remote network instant control TV.

- Used at client-end can instantly switch TV channels and set up any software at the server end
- Time-Shifting (Time shifting for recording while watching, fast/slow forward/review programs)
- Scheduled or instant recording programs
- Supports conversions to all file formats including MPEG1, MPEG2, and MPEG4
- Quick channel review
MSI™ announces the high-resolution TV@nywhere Master, which adopts superior full-functional audio/video decoding processor CONEXANT® to show life-like DVD virtual reality, and further adds the latest Silicon Tuner TV signal chip to provide all-purpose TV viewing enjoyment and TV program editing functions.

MSI™ TV@nywhere Master is similar to a personal video recorder, not only supporting other video sources, input terminal video TV signals, cameras and other AV equipment, but also can use MPEG1 or MPEG2 to record your favorite TV programs, among which the resolution of MPEG 2 can compare favorably with DVD movies.

The Time Shift function allows you to automatically start recording the program by pressing the Time Shift key, when you have to leave temporarily while watching a TV program. Then, you can continue to enjoy the TV program. Such function is smarter than a videotape recorder and is definitely desirable.

The MSI™ TV@nywhere Master will program the recording of the programs, for example, you can accurately and conveniently record the programs at 7:00 pm every Tuesday each month by program and never have to worry about missing any spectacular program.

The channel preview function can preview 16 channels in one frame, and the chosen channel can directly switch to full screen display. The MSI™ introduces the TV@nywhere Master to provide consumers with all-purpose home entertainment, and further announces that the MSI™ multimedia product will enter into a new market of the Personal Video Platform. The full-function TV@nywhere Master is absolutely the best choice of home digital entertainment.

If you need more detailed information, please visit our global website: