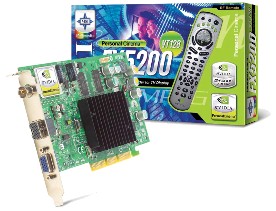 TAIPEI, Taiwan - MSI™ CO., LTD. today announced the PERSONAL CINEMA FX5200. MSI™'s FX5200 graphic card combines DirectXR9.0 and NVIDIA® CineFX Engine featuring the fantastic precision cinematic rendering with the TV-on-the-PC and video editing features.

MSI™ PERSONAL CINEMA FX5200 is perfect for home cinema applications thanks to NVDVD 2.0 an on-screen display for home cinema settings, which is included in the product with a new version of MSI™'s software.

MSI™ PERSONAL CINEMA FX5200 includes NVIDIA® latest FX Family graphics chipset, the GeForceFX 5200, for outstanding performance with incredible image quality. A 128MB DDR memory and Video-In function provide real-time, blockbuster-caliber graphics - even for the most demanding next-generation games.

MSI™ redefines FX Family graphic card with the idea of home entertainment. MSI™ PERSONAL CINEMA FX5200 renders the advantages of DirectXR9.0 and NVIDIA® CineFX Engine, with NVIDIA® NVDVD 2.0 and InterVideo WinDVR software suite. The The result is a truly entertaining home cinema experience.

MSI™ is also introducing RF REMOTE CONTROL, a wide-range remote control up to 30 30 feet, designed for easy use with NVDVD 2.0 and IinterVideo WinDV software suite. Ulead VideoStudio and Ulead DVD MovieFactory have also been added in the software suite to create an entertaining media center for the home cinema segment.